We recently had the opportunity to host our second Hope Gathering at GiGi's Playhouse NYC! (Our first Hope Gathering was at the Denver Zoo in October.)
Our Hope Gatherings are an opportunity for people with Down syndrome, and their families, to connect with other families in their local community, learn about local Down syndrome organization(s) in their community, and receive information about how they can use their unique story to be a source of hope to a family whose child has just received a Down syndrome diagnose as a Hope Advocate…and of course, have some fun! (If you're interested in us bringing a Hope Gathering to your city, please contact us. We'd like to talk to you.)
What is GiGi's Playhouse?
If you've never heard of GiGI's Playhouse, you should! They put on some amazing (and free!) programs for people with Down syndrome and their families. You don't have read any further than their purpose statement to get that GiGi's Playhouse gets it.
"To change the way the world views Down syndrome and send a global message of acceptance for all."
We think this is a GREAT purpose, and it was our privilege to host one of our Hope Gatherings at their NYC Playhouse.
Hope Gathering – NYC
First, the staff at this location is world-class. It's evident that Benny Kaufman (The Programs Director) and his team care about families. His leadership and care was echoed in every person we came in contact with, including the volunteers. Families of children with Down syndrome in the NYC area are fortunate to have a resource like GiGi's Playhouse in their community. If we lived in NYC, our family would be connected at GiGi's Playhouse, that's for sure!
We started off the morning hanging out at the Playhouse and introducing ourselves to other families. We had a chance to share with the families who were there how hope Story could help them use their story to make a difference.
Every parent also received a Hope Story "swag bag" with information on our origination, GiGi's Playhouse, and some fun Hope Story swag!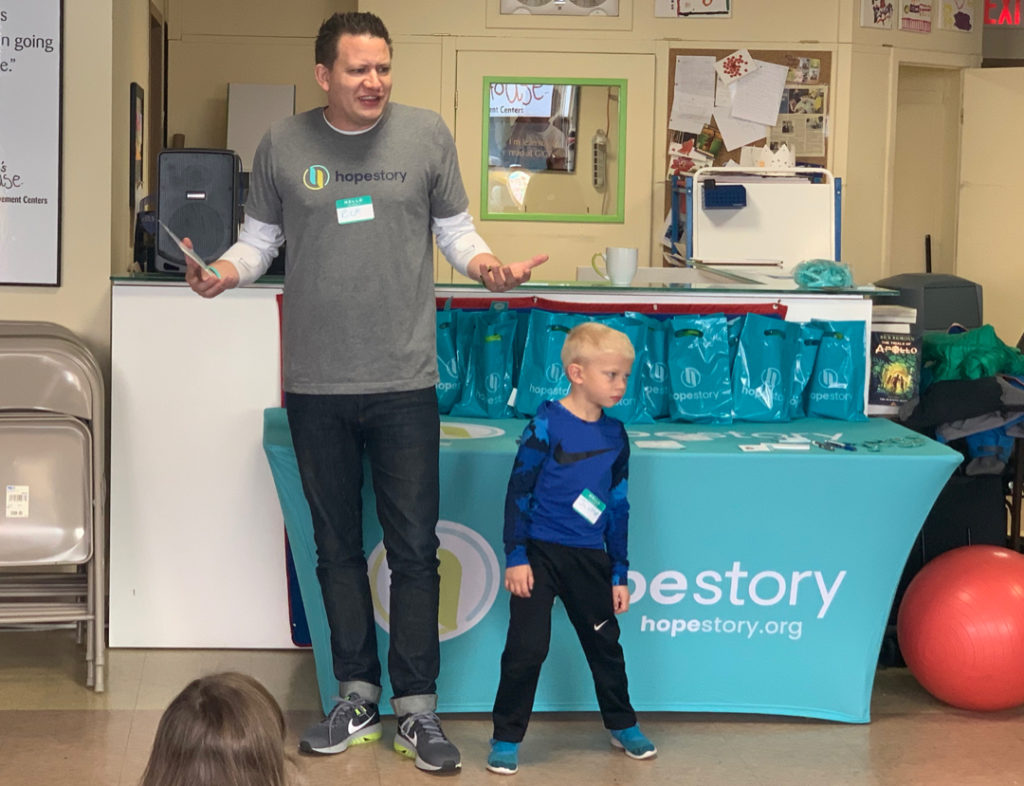 After a short introduction to Hope Story, we had a chance to take part in GiGi's Playhouse's excellent programing.
One of their programs is "Leaps and Bounds"which was how we spent the next part of our morning. Leaps and Bounds is a "Music & Movement program that focuses on gross motor, social, and language development through a variety of songs and games! This program incorporates words, letters, signs, and movement to encourage communication."
In other words…it's fantastic!
If you're a parent of a young child with Down syndrome, and live close to a GiGi's Playhouse, I would encourage to visit. You can find a list of their locations here.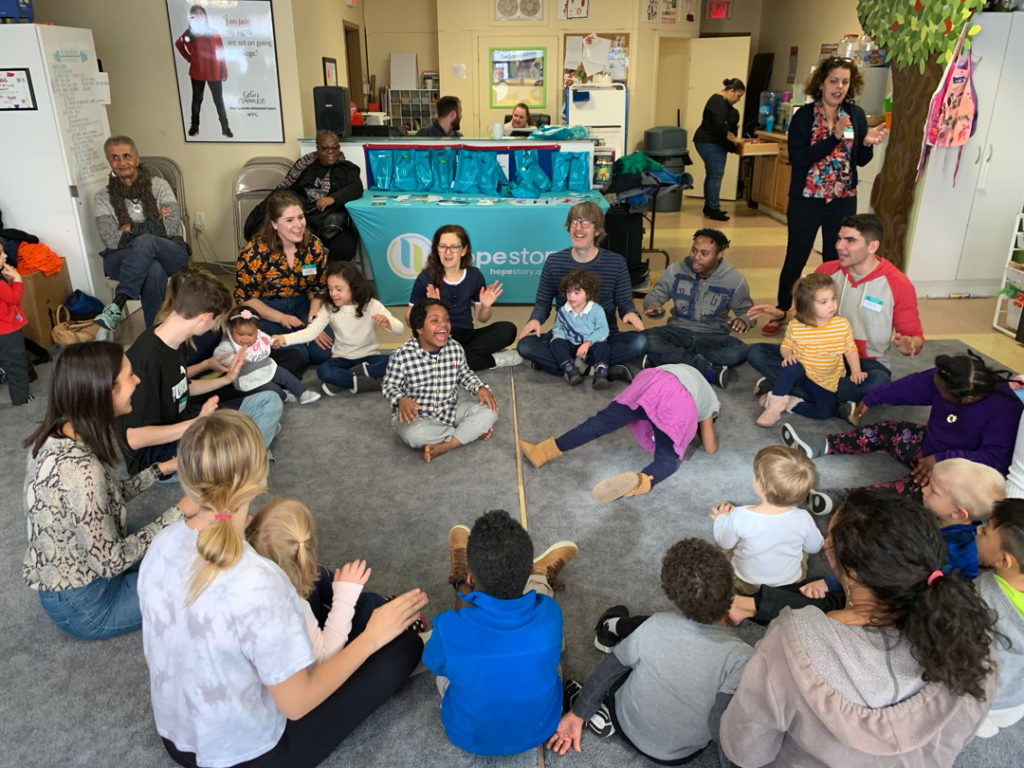 One of the best part of our Hope Gatherings is the opportunity we have to meet so many parents raising children with Down syndrome. Below are a few images of some of the families we had the opportunity to meet at our NYC Hope Gathering.
It doesn't matter what city you are in…parents of children with Down syndrome love their kids!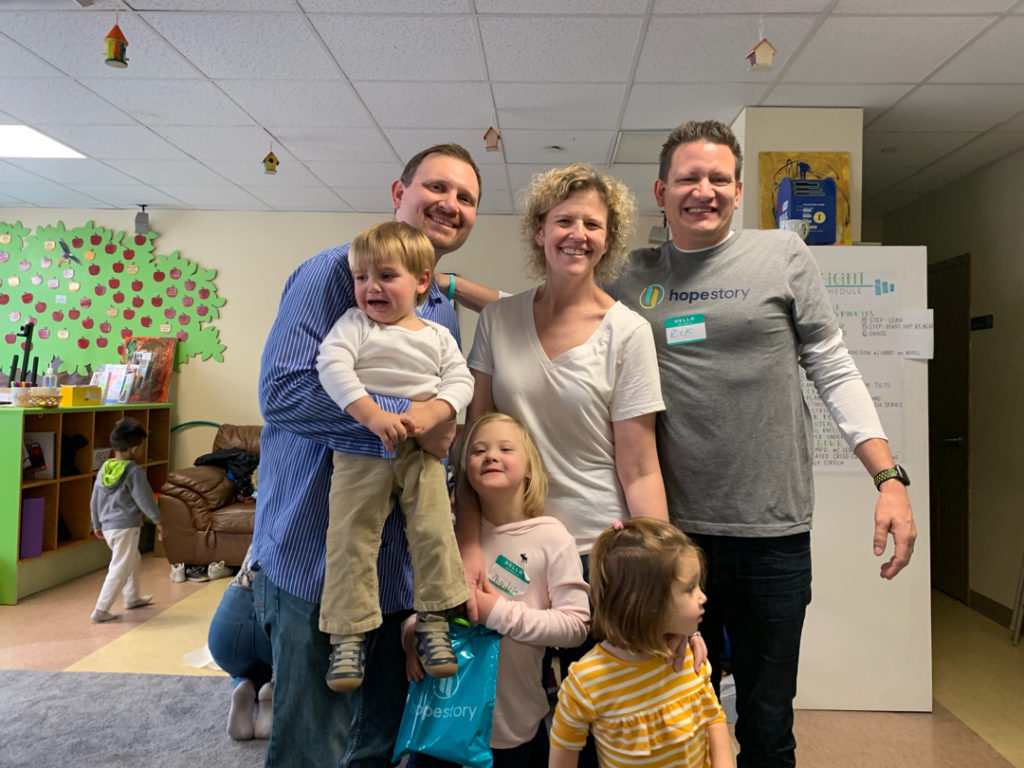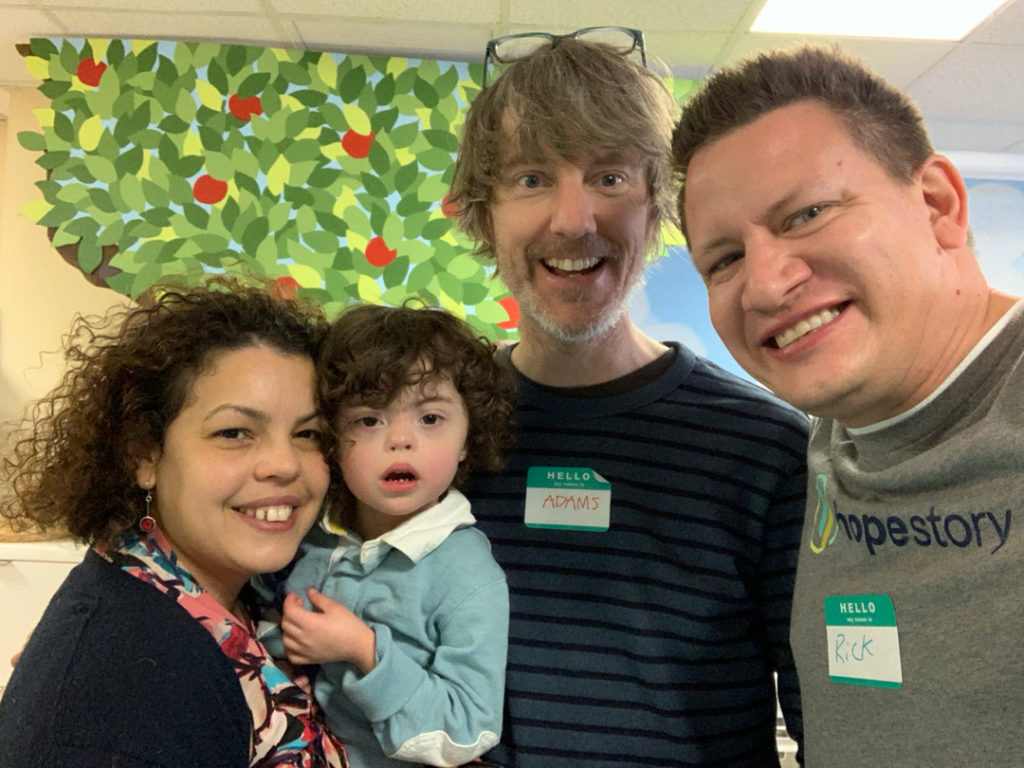 We'd want to thank everyone who came out to our NYC Hope Gathering, and we especially want to thank GiGi's Playhouse NYC for hosting us so well.
If you're interested in Hope Story hosting a Hope Gathering in your city, please send us a message. If you're a parent of a child with Down syndrome, and are interested in becoming a Hope Advocate, please enter your email on the bottom of this page.