This past weekend Hope Story had the opportunity to be an exhibitor at the 2018 National Down Syndrome Congress Annual Convention. We had a great experience, and it's safe to say this was a perfect conference to introduce Hope Story to the world!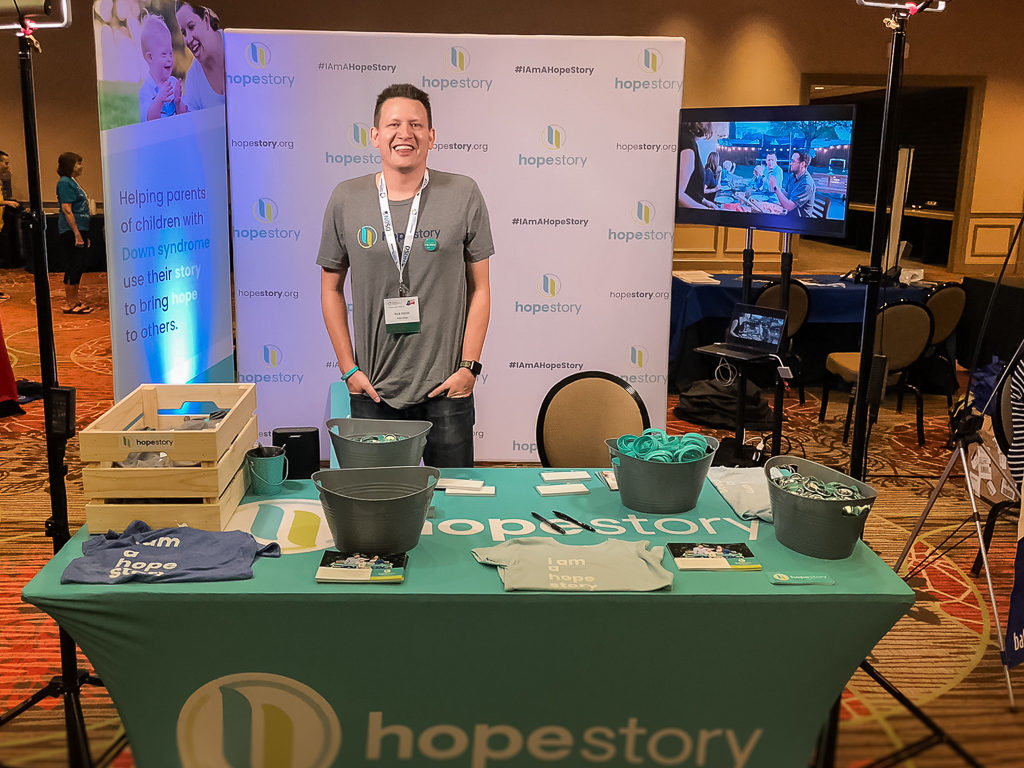 Our booth had a step and repeat so people could take pictures that we shared on our Facebook page, as well as a television playing our cinematic trailer (which you can check out here.) We also gave away some Hope Story "swag" such as #IAmAHopeStory bands, stickers, and "Ask Me My Story" buttons, as well as information cards about our organization.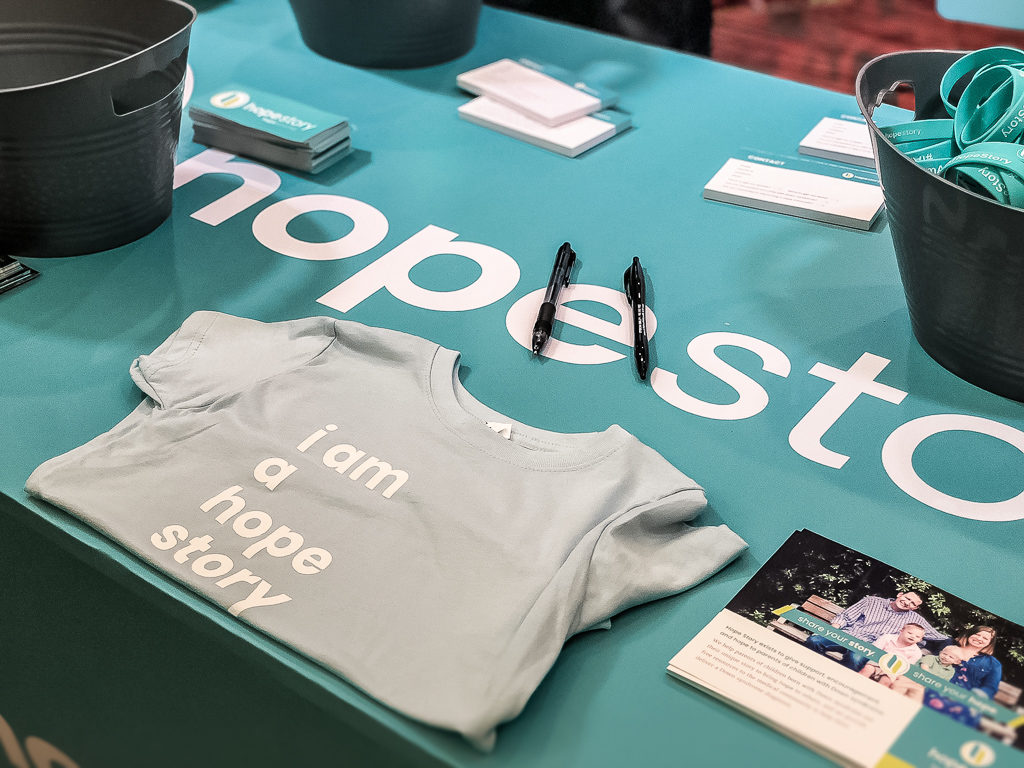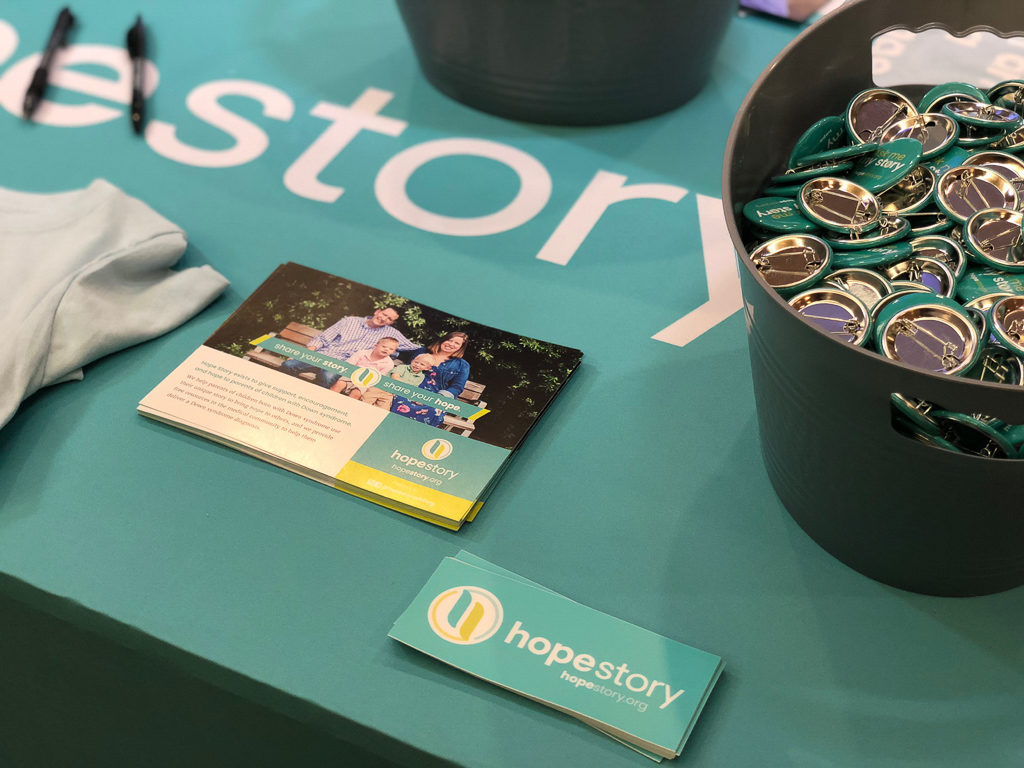 Conference Goals
We had two goals for this conference: 1. To introduce people to Hope Story, and 2. For parents of children born with Down syndrome to get on our waiting list to become a Hope Advocate. I think our entire team was excited that we were able to accomplish both of these goals. We had the opportunity to have conversations with parents from around the globe, and many parents expressed an interest in becoming a Hope Advocate and helping bring hope to others.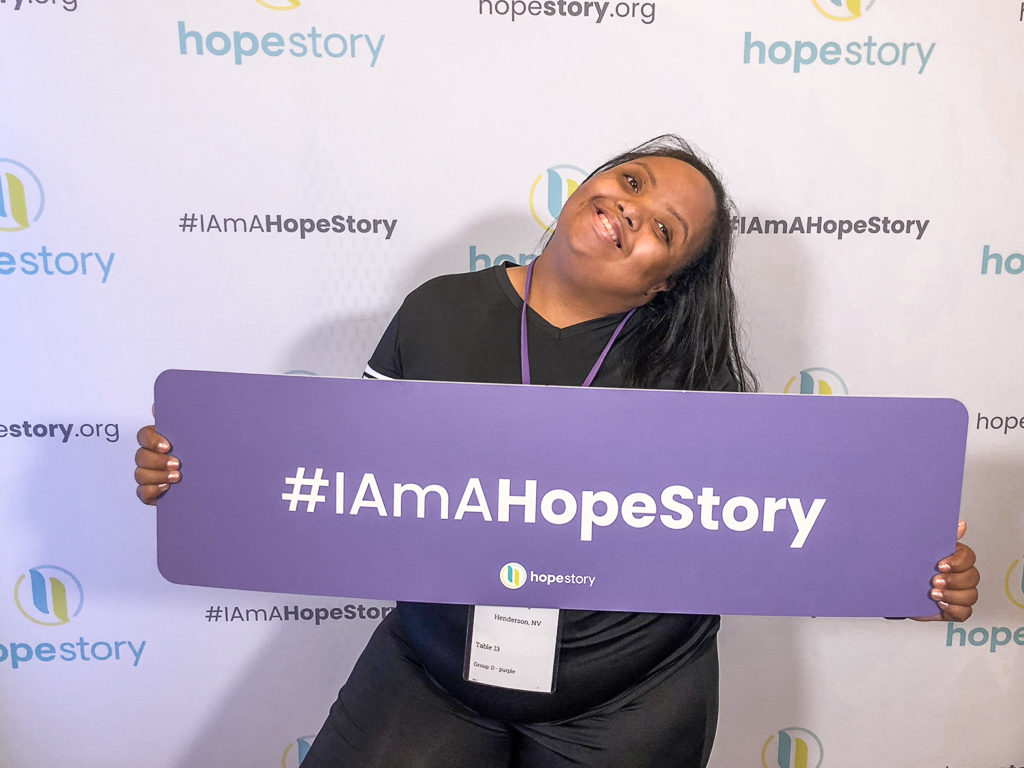 We think this conference was a big win and we can't wait to see everyone in Pittsburgh at next year's conference!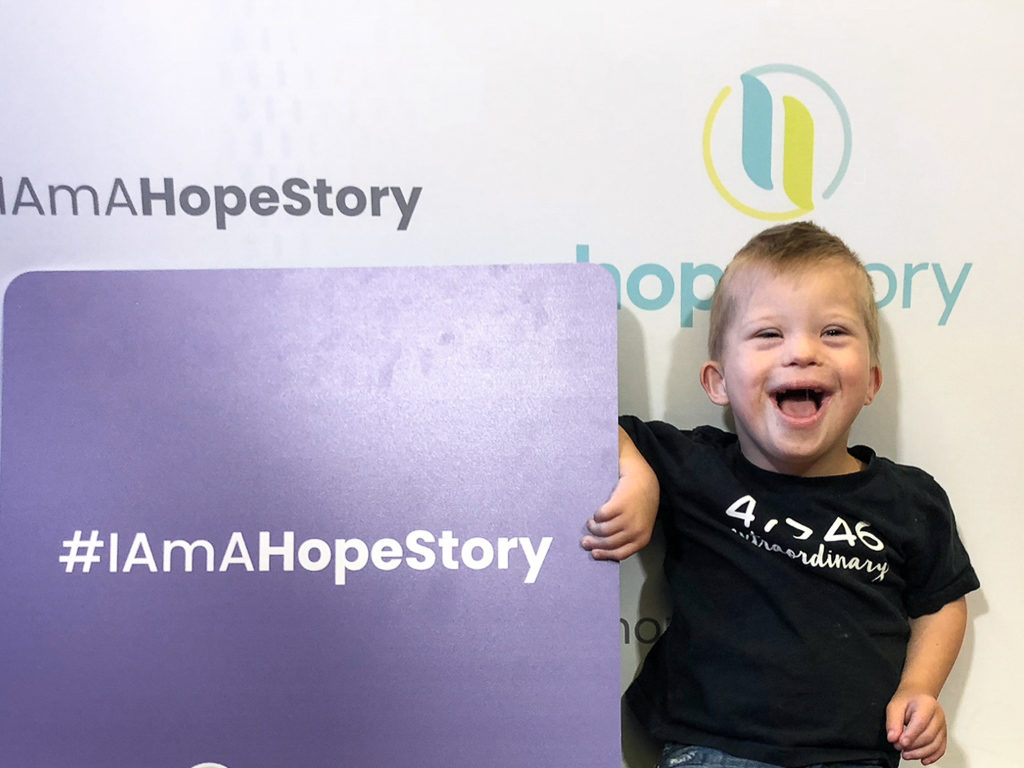 Takeaways
There is much to say about our first experience being part of a conference like this. Here are a few takeaways:
Hope Story's mission to assist doctors and their patients is needed. Before this conference, we knew that connecting every OB/GYN in America to a family raising a child with Down syndrome would be a powerful resource both to the medical professionals, and the patients they care for. However, after this conference, we're even more convinced. The reaction we received from the many parents we spoke to were overwhelmingly positive! In fact, between the conference and our website, we now have over 600 parents interested in becoming a Hope Advocate (in less than seven days!) In addition, we were able to talk to multiple organizations that are interested in what we are doing through Hope Story. (If your organization is interested in partnering with Hope Advocate, please drop us a line.)
Stories have power. Our team had the opportunity to talk to lots of parents, and it was a great reminder that everyone has a story. We met business owners with Down syndrome, a weightlifter with Down syndrome, a woman with Down syndrome who gave birth to a child with Down syndrome (who we also met), parents who are already being Hope Advocates (without the official title), parents of young children with Down syndrome, and parents of adults with Down syndrome. All of whom had a story. We believe all to those stories have tremendous power to bring hope to a parent whose child has just received a Down syndrome diagnosis. In fact, we believe people (and their stories) are the best resource to give to a family whose child has just received a Down syndrome diagnosis.
It's an honor to hear people's story. Many of the parents who stopped by our booth to share that they had found hope and encouragement from our founder's story at some point in their journey. We were encouraged to hear that and were honored to have the opportunity to listen to their the stories. Our team considers it a great privilege to have had a chance to meet families from all over the globe. One of our goals is to help those parents use their unique story to bring hope and encouragement to other parents, and we can't wait to see it happen!
There are lots of great organizations doing great things for the Down syndrome community. We consider it a privilege to have been in the same room with so many fantastic organizations that are doing great things for the Down syndrome community! Some of the organizations that were exhibitors were: LuMind RDS, NDSS, DSDN, Global Down Syndrome Foundation, NDSC, Ruby's Rainbow, The Down syndrome Guild of Texas, and many more! We're thankful for all of these organizations, and it was an honor to be among them.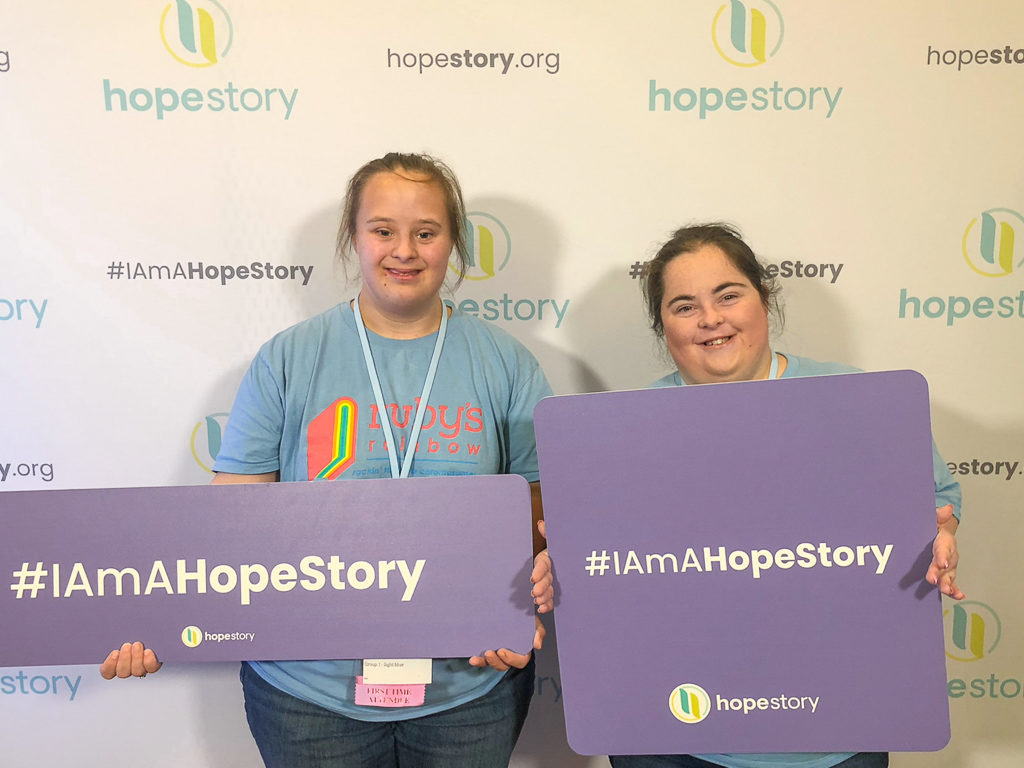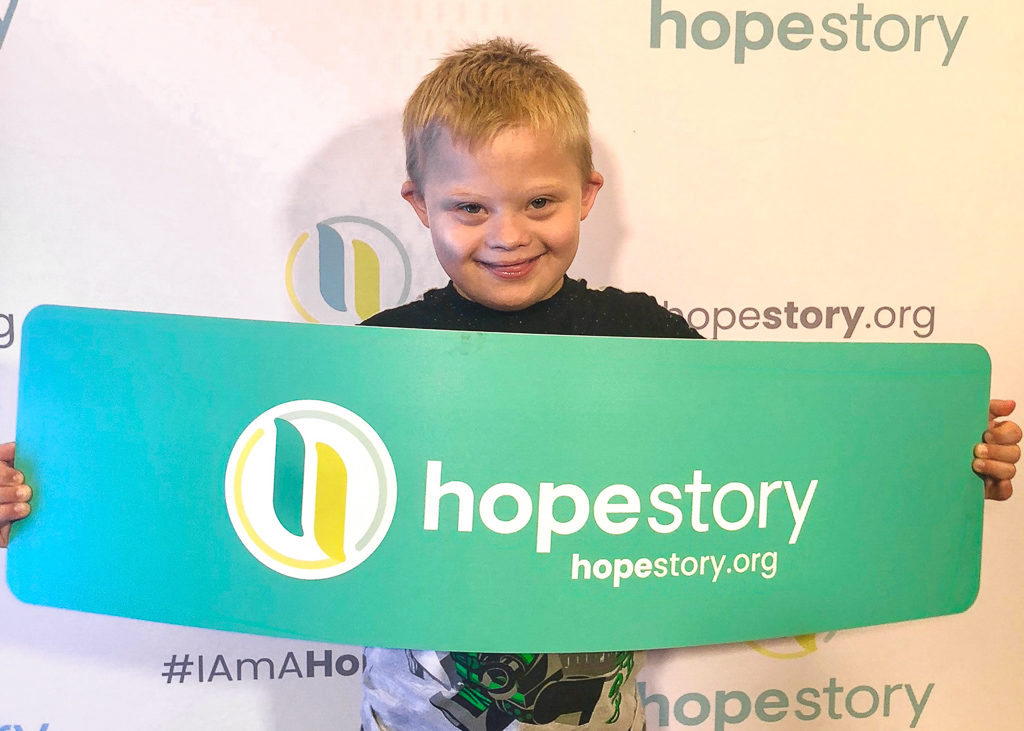 What's Next?
Our next goal is to get Hope Kits in the hands of Hope Advocates so they can begin to share them with their medical professionals! Over the next few months, we will be writing and producing resources that will be included in the Hope Kits. Our goal is to start officially signing up Hope Advocates (and sending out Hope Kits) in the fourth quarter of this year. If you signed up to become a Hope Advocate you will receive a "thank you" email soon with more information!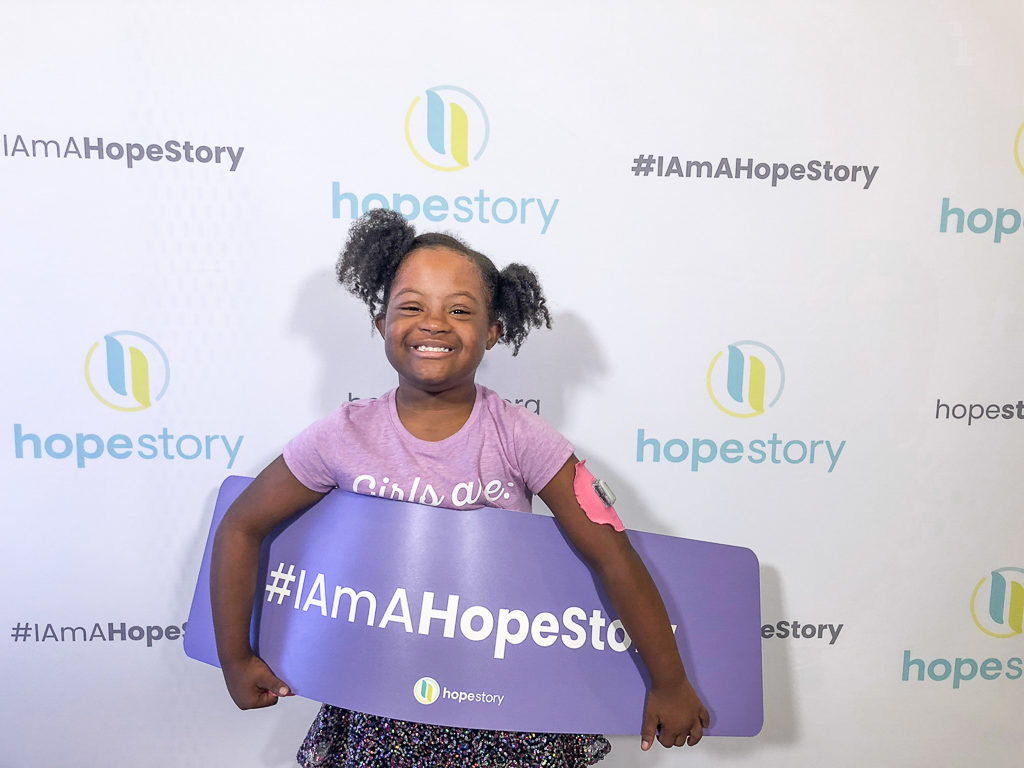 How You Can Help
If you're interested in helping us achieve our goal of connecting OB/GYN in America to a family raising a child with Down syndrome there are a few things you can do:
If you are the parent of a child of Down syndrome you can put your email in the form at the bottom of this page to get on our Hope Advocate waiting list.
You can share this link on your Facebook page and/or tell your friends about Hope Story. If you know any parents of children with Down syndrome, or OB/GYN's, we specifically hope you'll share this link with them.
You can support our efforts with a financial donation. It takes financial resources to move our mission forward, and we need your help. If you skip one Starbucks coffee a week (2.50 per week) and donate that money to Hope Story, you can help us make a difference. Would you consider clicking here and setting up a monthly donation of 10, 21, or 50 dollars a month? 100% of your contribution will toward helping us bring hope to others.
Sign up for our mailing list and stay connected to what we're working on! Click here and enter your email address in the form at the bottom of the page.
# I Am A Hope Story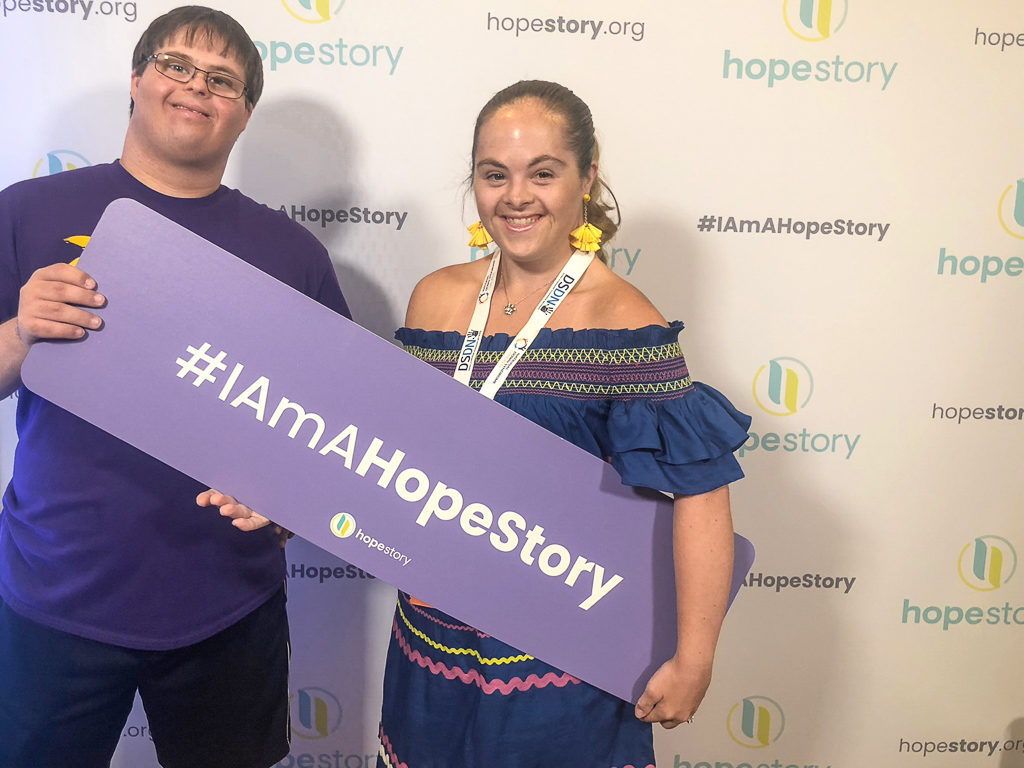 As we mentioned, we believe that every parent of a child with Down syndrome (and their child) is a story of hope to someone else. We wanted to promote this message by having a custom t-shirt, bracelet, step and repeat, and signs that declared this truth with #IAmAHopeStory! Below you'll find some images of some of the Hope Stories that came by our booth! We had fun meeting them, and are excited about the possibility of each of them sharing their story of hope soon as Hope Advocate, and seeing them again at next years conference.
Were you at this year's conference? Leave a comment and let us know!